Harambee Gwassi Kenya in Second Life
"If you want to get first run alone. If you want to go far, walk together" (Swahili proverb)
A journey into the Metaverse
Second Life is an online virtual community that offers important tools of communication and marketing, one of the possible boundaries of Web 3.0. The registration is free and requires you to install a specific client to use all the features of the 'metaverse' (we recommend Firestorm o Singularity).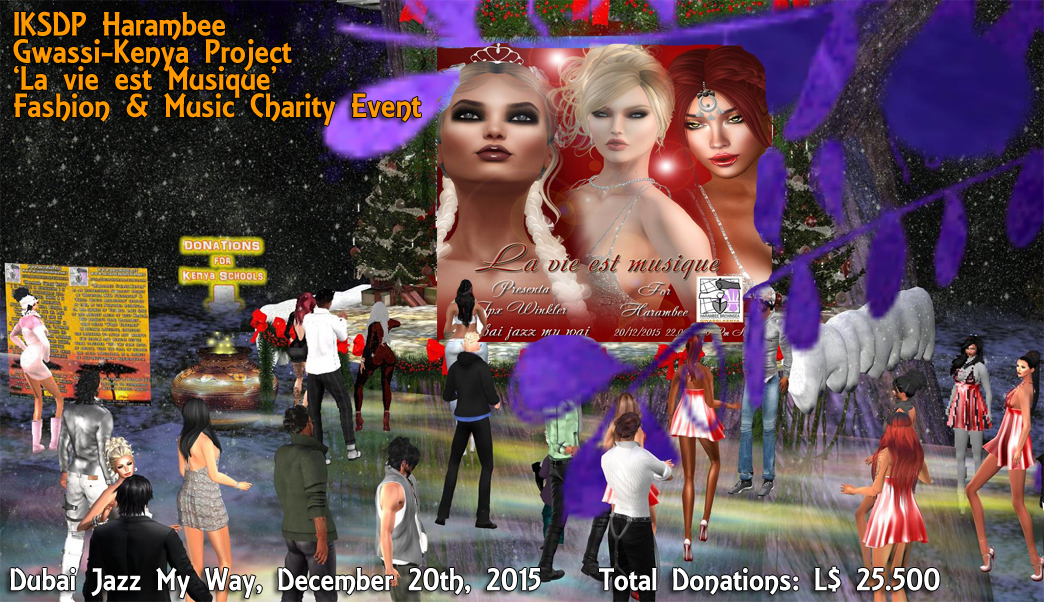 Second Life a very wide three-dimensional world attended by tens of thousands of people interacting in realistic or fantastic environments, with the appearance of customizable avatars, with a few clicks (see the tutorial). It's composed of countless islands (called SIM) that representing the meeting-point for those who want to Know other people, where you can chat or talk with voice, dance, play a lot of activities, (live concerts, buy or build objects and clothes, houses to live in, participate in courses, cultural events, art exhibitions and role-playing games.
Here, the photo 'La vie est Musique' event (December 2015) and also the great video.
Second Life is an interactive place where many groups and universities have created amazing 3D reconstructions: the Eiffel Tower in Paris, the Ancien Rome, Venice, the Amazon River, the Fantasy Village, and... all Destinations here!
You can do all of it free, or with a few Linden dollars (the currency of exchange used in the economy of the virtual world, 350 L$ correspond to about 1 Euro), with whom we procure fancy clothes, change the physical appearance (the results are truly amazing!), special effects, futuristic vehicles, furniture for your home (one of the most popular activities in Second Life) or ... make donations to the Harambee Project!