Nyandiwa calls Italy: Italy answers!
"Nyandiwa calls Italy: Italy answers!"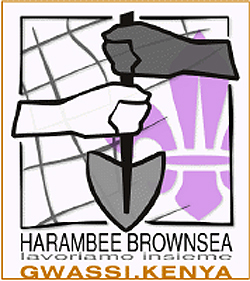 Our contacts
Antonio Labate Project Manager Harambee.
Margaret Ongombeh Camp Manager of Nyandiwa Scout Center
Loredana Gatta: harambee@conquistaweb.it - Web Master contact and cooperation between Italian and Kenyan Schools for the illustration of Fairy Tales.
Nino Lotrecchiano: n.lotrecchiano@alice.it - Web Master, Content Manager & translations.
How to cooperate
The Foundation Brownsea NGO office is in via Burigozzo 11, 20122 Milan (Italy). It's possible participate in workshops organized in Italy and abroad: for more information email: info@brownsea.it
To support our project you can:
- send even small contributions
- for Italians: 5x1000 allocate income tax
- send donations to deduct tax in accordance with regulations
- follow our Community in Second Life to improve the Kitawa schools
- get involved with your class to exchange E-mail with our Kenyan Schools in Gwassi region.
Together we can grow... pole pole (slowly) with the slow time of Africa: Little + Little = MUCH !!!.