Harambee Gwassi Kenya in Second Life
"Also the actions in a virtual world can inspire the spirit of Harambee: to work together"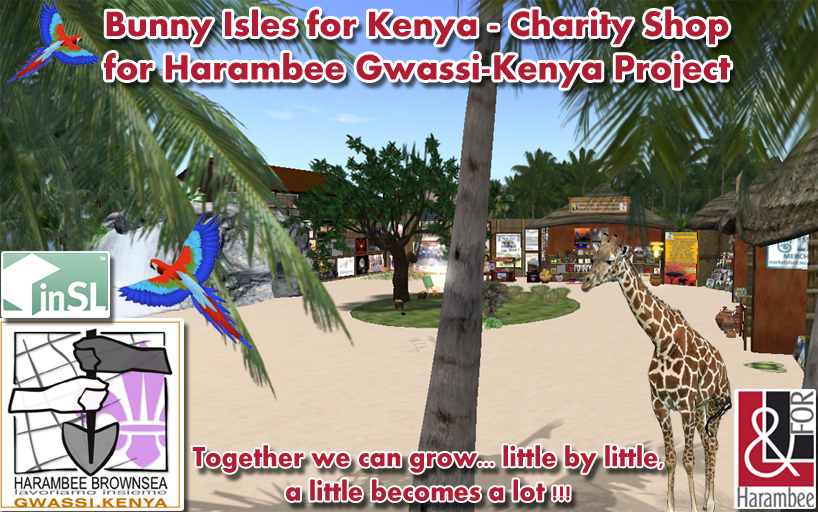 From a virtual world, real donations!
Since 2008 the Harambee Gwassi-Kenya project has found a space in Second Life, famous world 3d: in Bunny isles we rebuilt an East African corner, an enjoyable tropical beach, a village of huts that host many virtual items (African Decors & clothes, Celebrations & Wedding settings, Great buildings, Home and Garden furniture & plants, Landscaping, Female & Male fashion, Accessories & Jewelry), the proceeds of which translate into real funds. The activities - coordinated by Loredana and Nino (avatars: Loredana Loring and Lotrec Oh) and by the Staff of group - help to finance the real project for Harambee Gwassi-Kenya schools.
The fundamental resource is the constant collaboration with Italian and foreign friends, groups and land-partners that support us organizing artistic and cultural events. Since 2010 have been paid 21,200 euros, used to reconstruct the Kitawa schools and then for other educational activities that go with success! Currently the aim is the expansion of IKSDP Educational Schools Project and IKSDP College..
How can you participate?

See the Instructions for Second Life: download the free client and sign up to Second Life.

Join us in Bunny isles, you can dance on the beach and even 'under sea', you can chat in pleasant corners among the palm trees or in our fairytale castle in the sky!

Read the News in our Blog dedicated to the project in Second Life and in our Magazine

For all informations, send Email to the coordinators: Loredana Loring (loredana.loring@conquistaweb.it) and Lotrec Oh (nilotrec@gmail.com)
Together we can grow, pole pole (one step at a time) with the slow time of Africa: little by little, a little becomes a lot !!!