Harambee Tales: A Boy and a Donkey

"Uteshi wa mtoto ni anga la nyumba" - " The laughter of a child are the foundation of a house" (Swahili proverb)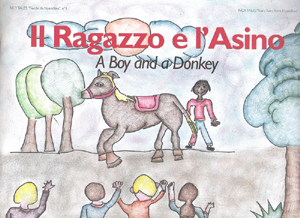 This Ebook of the Harambee Tales aims at spreading the knowledge of the Luo's culture, settled on the shores of Victoria Lake in Kenya.
The publishing of A Boy and a Donkey has a very significant meaning for the Harambee project as it comes from the collaboration among Italian schools and those of the Gwassi region. The tale, sent to Italy by Opellah JM Vitalis (teacher and Director of Kimange Primary School) to ValLagarina Primary School of Milan (5th classes), is different because its characters are only human beings: the protagonist is a boy who catches a mouse with the intention of eating it. His father comes home and throws away the dead rat, much to the chagrin of his son. To console him, then his father gave him an old hat and from this, comes a series of exchanges of items that will bring the boy to get a beautiful colt, he will make available to all the inhabitants of his village, to bring the goods to be sell at the market.
The vivid and bright illustrations are a nice contribution to a mutual enrichment: the Italian students are committed to 'translate' the story in beautiful pictures for this Ebook, an interesting demonstration of direct collaboration between the Italian and Kenyan schools. The book also includes drawings in black and white coloring and a series of 17 interactive puzzles related to the story!