Harambee Tales: The Monkey and the Crocodile

"Ajuaye mengi, hasemi mengi" - " Who knows more talk less" (Swahili proverb)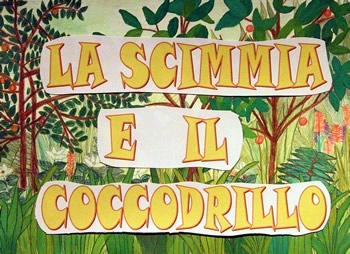 The Fairy tales have always been an important part of all peoples' traditions as they contain treasures of the deepest and genuine features of a human group. This Ebook of the Harambee Tales aims at spreading the knowledge of the Luo's culture, settled on the banks of Lake Victoria in Kenya.
The publishing of The Monkey and the Crocodile has a very significant meaning for the Harambee project as it comes from the collaboration among Italian schools and those of the Gwassi region. The tale, sent to Italy by Margaret A. Ongombeh (Kenya Project Manager) has been read by the pupils of the Secondary School of Samarate (Varese, Italy), who got deeply involved in "translating" it into drawings for an audiovisual tape and for this book.
The story of a crocodile who betrays the friendship of a cunning monkey bears pessimistic morals and points out the difficulties that men meet in starting definite relationships. Everywhere and always treacheries, selfishness and the victories of the strongest and astute fellows generate mistrust and discouragement. This work, born from the collaboration between Italians and Kenyans, yields a breath of optimism and hope: it is an invitation to readers to reflect once again on man's behaviours and on the opportunity of a better world.