Second Life: Rock 4 Kenya Tour
"Also the actions in a virtual world can inspire the spirit of Harambee: to work together" (SL proverb)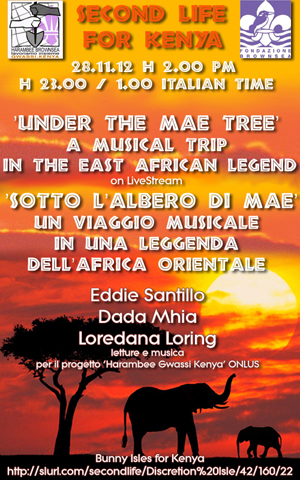 The Live Concerts of Eddie Santillo
The Live Concert Tour "Rock 4 Kenya" comes from the idea by musician Eddie Santillo which, as the avatar EddieGuitarDagger Sheryffe, devotes several live concerts to raise funds for the Harambee Gwassi Kenya project.
The Music Tour has been articulated from land to land every month for 2 years: he's always to contact the owners of the most beautiful islands in Second Life! Each time, in 2 hours of live music the project's objectives were presented and the guests have made generous contributions with small or large donations to fundraiser! So, slowly, the virtual Linden Dollars donated by many friends Italian and foreign, are transformed into real money: by December 2010, we converted into dollars and then in Italian currency 3000 Euro to rebuild the Kitawa school!
The Tour continued with success for 2 years, along with the other cultural events in Second Life. A special thanks to our friend Eddie Santillo and his manager Dada Mhia, now engaged full time in the real work, but that will hopefully come back soon to give us some concerts! Many Thanks to all Owners of Metaverse, who support us and will continue to host many events dedicated to our Foundation Shools!
> Explore the Events movies to find out!
Together we can grow, pole pole (one step at a time) with the slow time of Africa: little by little, a little becomes a lot !!!